Realigning the links of the disconnected supply chain
SYSPRO study into how manufacturers and distributors need to rethink and realign their supply chain to engineer a bounce-back
A SYSPRO guide into how manufacturers can remain resilient
From Brexit through to trade wars and even the pandemic, manufacturers and distributors have needed to thrive in a state of consistent chaos for years. Supply chain disruptions have led the industry to find short-term digital solutions to remain resilient. Many businesses build digital roadmaps with the aim to overcome ongoing disruptions. The question is whether businesses made the right investments and what they should be thinking about to engineer a bounce-back.
To answer these questions, SYSPRO conducted a research survey which assessed the sentiment of 163 manufacturing and distribution industry professionals of different managerial levels within EMEA, the Americas and APAC regions.
The SYSPRO 2022 Research Report unpacks:
Did manufacturers build a long-term digital roadmap and have they stuck to that plan?
What technologies have given manufacturers a competitive advantage?
What has been holding the industry back and what is projecting them forward?
What are the underlying reasons behind the ongoing supply chain disruptions?
How do manufacturers and distributors realign their supply chain?
Reverting back to old business models or investing in technologies to keep the 'lights on' will no longer suffice. While there has been downtime, manufacturers and distributors have the opportunity now to make a change to improve operational efficiency and thrive now and into the future"
Paulo De Matos
Chief Product Officer, SYSPRO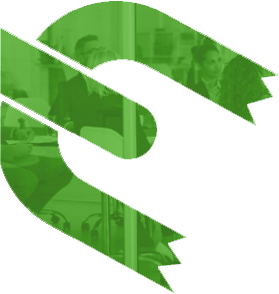 The findings suggest that many businesses did not set up a solid foundation in their digital strategy by jumping straight to digitalization or digital transformation. At the same time, many businesses feel that digital transformation is unnecessary as the way they have manufactured products has not changed in years.
Roger Landman,
Head of Product Management, SYSPRO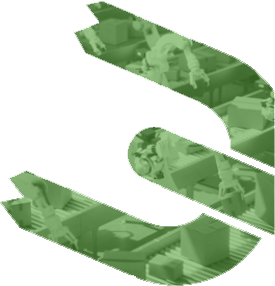 Four key themes uncovered in the Research Report:
Disconnect
Disconnect between the investment in internal efficiencies and external collaboration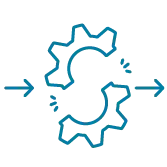 Misalignment
Digital strategies not aligned to execution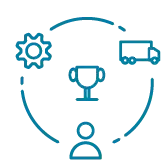 Competitive Disadvantage
Supply chains do not have competitive advantage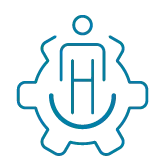 Customer Centricity
The customer is placed at the end of the supply chain, and not at the center
Discover key themes of the Research Report
Use the hotspots below for more information.
Along with internal efficiency, external collaboration is a priority that businesses will need to develop.
60%
of businesses were
unable to engage with their customers
and suppliers while only
44%
of business had systems that allowed them to
effectively collaborate with external suppliers and customers
.
Discover
Supply Chain Portal
for external collaboration.
Digital strategies did not address key supply chain challenges. While customer service was a top challenge only
23%
of businesses
looked at increasing
external
collaboration
as a part of their digital strategy and only
18% invested in business systems
to improve external support.
Read more on how to
align your digital strategy with execution.
No data analytics mean businesses were unable to understand internal and external factors for their supply chains to compete on a global level.
47%
of manufacturers and distributors
invested in IoT and IIoT
but only
20% of businesses invested in data analytics tools
with only
5%
investigating Artificial Intelligence and Machine Learning.
Manage your inventory with ERP
to maintain a competitive advantage.
A balance along the supply chain can be achieved through customer centricity. Despite having begun their digital transformation and having invested in digital technologies, only
26%
of these businesses
felt that they had achieved reasonable customer satisfaction
, & only
22% experienced measurable revenue growth
.
Read more about customer centricity in our
SYSPRO research survey report. 
Discover key themes of the Research Report