If your company deploys a Make To Stock (MTS) manufacturing strategy, your business relies almost entirely on precise demand forecasting. Sales forecasts drive inventory and production plans, as well as financial projections, for months or even a year forward.
How well does your MTS business handle market fluctuations? How accurate are your forecasts? Do you have the visibility you need to cut out inefficiencies and operate more lean?
Discover how SYSPRO Enterprise Resource Planning (ERP) software empowers MTS manufacturers to solve their unique market challenges, providing real-time, 360-degree visibility across the business – from sales to supply chain to logistics and accounting. With powerful, easy-to-use business management tools, SYSPRO can help your team improve efficiency and profitability.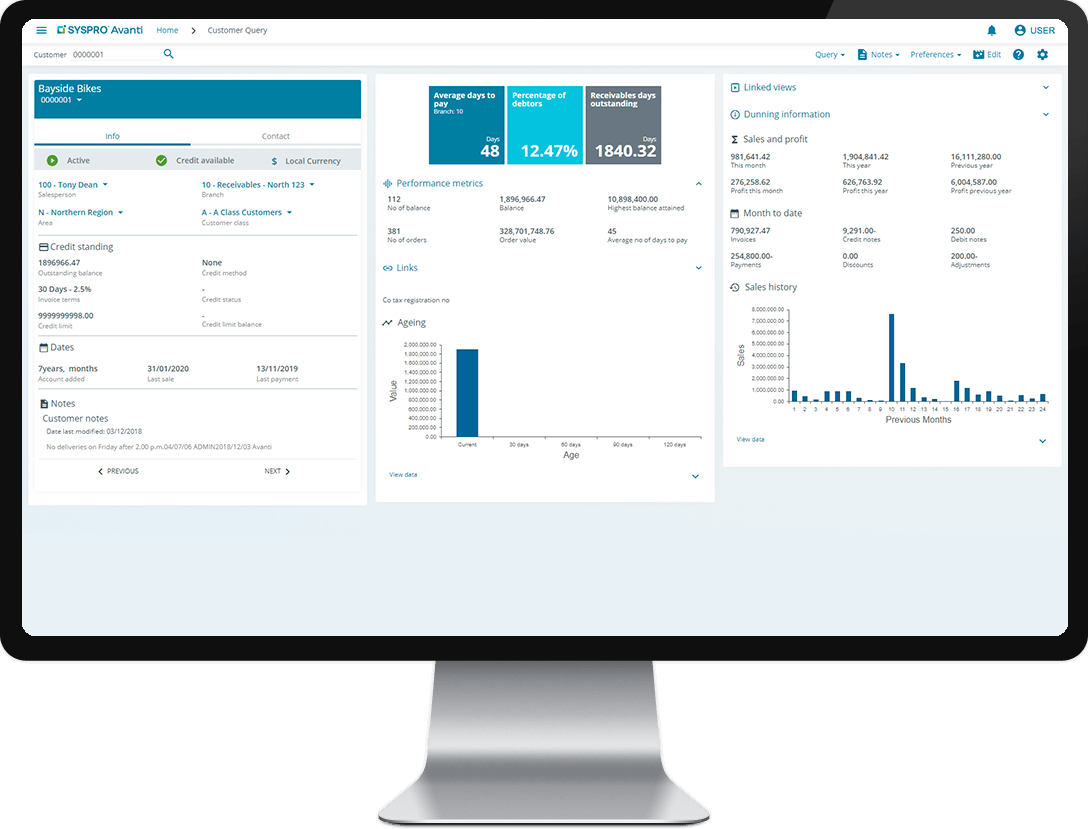 Best-in-Class Make to Stock Manufacturing ERP
When choosing new technology, you need a partner who knows your industry, inside and out. SYSPRO has worked with dozens of make to stock manufacturing companies just like yours. Find out how SYSPRO ERP software can provide you with accurate demand forecasts you can trust, and then help you use that data to foster collaboration and ignite efficiency across the organization, from front to back office.
MTO Software - Simplify Your make-to-order manufacturing operations
SYSPRO's flexible, unified platform provides real-time and complete visibility across your operations. Its easy-to-use, powerful functionality is built to help you improve manufacturing and operational efficiency, as well as customer service, throughout the entire enterprise. Here are just a few of the features valuable in an MTO manufacturing environment.
Process Sales Orders More Efficiently
SYSPRO's Sales Orders system enables you to boost customer service through fast, efficient order processing; accurate, timely order fulfilment; and comprehensive backorder management. Maximize sales by providing instant access to customer sales history, as well as stock pricing, current and future availability and product substitutions.
Optimize Inventory Levels
SYSPRO's Inventory Management suite enables comprehensive demand management, as well as enforcement of stock policies. The system helps to determine the optimum levels required for safety stock, seasonal stock and basic stock, by factoring in considerations such as depletion rate, target service-level, standard demand deviation, order lead time and lead time variability.
In addition, SYSPRO ERP software features Forecasting and Families and Groupings capabilities, which enable you to refine predictions of future sales based on past history, trends, seasonality, Pareto analysis and non-quantitative factors. Track forecast errors closely so you can adjust quickly.
Streamline Factory Operations
SYSPRO's Manufacturing Execution System (MES), powered by LYNQ, enables you to build a complete profile of your factory capacity. Planning Manager, Workforce Manager and Factory Manager have been designed to help you increase output and reduce costs by automating your business processes and connecting your factory.
Manage jobs more efficiently with SYSPRO's Work in Progress module, with day-to-day monitoring of job-related activities, costs, scrap and exception events. And, you can integrate with best-of-breed shop-floor data collection systems via SYSPRO's e.net Solutions.
Enforce Quality and Consistency
SYSPRO's Engineering Change Control (ECC), Bill of Materials, Work-in-Progress and Factory Documentation applications enable you to implement controls to ensure that your products are manufactured under consistent processes, to the correct designs and specifications.
Ensure Component Traceability
SYSPRO's lot traceability and serial tracking features enable you to monitor components and ingredients in case of recalls or other quality issues.
SYSPRO features extensive costing control and tracking including the ability to model the effects of "what-if" material, labor and manufacturing route costs. Costing methods by warehouse – as well as the ability to track actual and activity-based costs – makes it easier to ensure that products are costed appropriately.
Lets work together to create positive change in your business
Get in touch to find out how SYSPRO can assist you and your business today