1. What is a Cookie?
Cookies are small text files sent by a web server to store information on your browser so it can later be read back from that browser. Cookies collect information such as the device ID, the Data Subject's IP address, behavioural data of the Data Subject, device usage on the SYSPRO Websites and general usage and volume statistical information. Cookies remember log-in details and provide secure log-in, keep track of information provided to SYSPRO, remember task or transaction progress, analyse site usage to provide custom content, conduct analytics to optimise the SYSPRO Website functionality, ensure SYSPRO Websites look consistent and allow the Data Subject to post comments. The Data Subject's browser may be set to alert the Data Subject when a Cookie is going to be used and then accept, reject or manage preferences.
2. Access to the SYSPRO Website and further navigation
The legitimate interest basis permits the Responsible Party to capture a limited amount of Personal Information. But, a Data Subject can still object to this. Hence, there is always the ability for a Data Subject to access the Website. Thereafter, SYSPRO requires your consent.
Anybody can access the SYSPRO Website in a totally anonymous way where no Personal Information or unique identifier is logged until you navigate through your privacy preferences. To continue to navigate through the Website, you will be given the following options:

If the Data Subject selects "I agree", they are in fact agreeing to all Cookies.
If the Data Subject selects "I decline", they are in fact rejecting all Cookies and may not be able to access other aspects of the Website.
If the Data Subject selects "Manage my Preferences", they will be given a selection of Cookie types to either accept or reject individually. Once again, the selection may limit the Data Subject's continued access to the SYSPRO Website resources and content.
3. The Cookie Preference Centre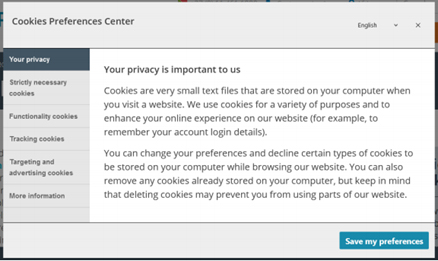 4. First-Party and Third-Party Cookies
We use both first-party and third-party Cookies on our Website.
First-party Cookies are Cookies issued from the SYSPRO.COM domain that are generally used to identify language and location preferences or render basic site functionality.
Third-party Cookies belong to and are managed by other parties, such as SYSPRO business partners or service providers. These Cookies may be required to render certain forms or content specific to the partner or service provider.
These include:
Opt-Out Link/More details regarding specific privacy policy
We use HubSpot Analytics to understand how users arrive on our website(s) and how they engage with us on the Website and its content. The data is used to improve the user experience. HubSpot also uses this cookie to understand the content with which you have engaged on our website(s) so they may subsequently deliver some targeted advertisements to you.
The Bing Ads Universal Event Tracking tag helps us understand how our Bing campaigns perform by tracking actions on SYSPRO Websites once ads have been clicked.
We use Google Analytics to understand how our media campaigns work and how you interact with our Website in order to improve the user experience.
Google tracking cookies enable us to understand if you complete certain actions on our Website(s) after you have seen or clicked through one of our adverts served via Google. Based on the content you have engaged with on our Websites, Google are able to deliver some targeted adverts across other Google partner websites.
Facebook helps you stay in touch with your network through their website/ mobile application. We make it easier for you to share any content of interest on Facebook and sometimes, we may present with some targeted adverts on Facebook based on your engagement with our Website(s).
The LinkedIn insight tag allows us to perform campaign reporting and unlock valuable insights about Website visitors that may come via the campaigns we run on LinkedIn.
Twitter provides real time updates from across the globe on the latest trending stories, ideas and opinions from the Twitter accounts or hashtags that you choose to follow. We make it easier for you to share our Website content over Twitter. At times, we may present you with some ads on Twitter based on your engagement with our Website(s).
We embed videos or insert links to videos from YouTube on our Website(s). As a result, when you visit a page with content embedded from or linked to YouTube, you may be presented with cookies from YouTube.
We use SEMRush to understand how our media campaigns work while allowing us to monitor the health and usage of our Website and how you interact with our Website in order to improve the user experience
We use Yoast SEO to improve user experience and to ensure the user is being delivered the right content appropriate to their search.
Google Tag Manager is used to monitor actions on the pages of our Websites and to understand how you interact with our Website in order to improve your experience.
We use Google My Business to help you find our business and to ensure that you are being served the correct content based on your search.
Crazy Egg is used to track the performance on our Web pages and how you interact with the pages to provide a better user experience.
5. Transborder obligations
Because of the additional obligations related to transborder flow of personal information, SYSPRO is required to advise the Data Subject that in order for SYSPRO to legally conduct its business and offer the Data Subject the best User and Customer experience, Personal Information collected may be shared with SYSPRO associated and affiliated companies in various countries around the world.